The Seattle Folklore Society fall concert season opens on Saturday, September 22, with Mollie O'Brien and Rich Moore, "An incredible singer and fantastic guitarist performing some of the best songs you'll ever hear in one show…", according to Larry Groce, host of Mountain Stage.
For over 30 years Mollie O'Brien and her husband, guitarist Rich Moore, have quietly made it their mission to find, mine and reinvent other artists' songs. They interpret the songs in the way that great singers, since the beginning of popular American music, have made the songs of their era their own.
Grammy winner Mollie has long been known as a singer who doesn't recognize a lot of musical boundaries, and audiences love her fluid ability to make herself at home in any genre, from blues to Broadway, with touches of folk and bluegrass, while never sacrificing the essence of the song she tackles. "She has a veritable Grand Coulee Damful of soulful expression stored and ready to channel when she sings."
Rich, while known to produce some of the funniest onstage running commentary, is also a powerhouse guitar player who can keep up with Mollie's twists and turns from blues to traditional folk to jazz to rock and roll. He creates a band with just his guitar and, as a result, theirs is an equal partnership.
One part Maria Muldaur, one part Suzy Bogguss, and one part Ella Fitzgerald, Mollie O'Brien's voice with its seemingly limitless range is the perfect vehicle for this eclectic set of songs. Rich Moore's crisp harmonies and guitar playing support in all the right places. It takes serious talent to play and sing this effortlessly." Gretchen Peters
Join Mollie O'Brien and Rich Moore at the Phinney Neighborhood Center on Saturday, September 22, 2018, at 7:30 PM. Get advance tickets at www.brownpapertickets.com.  Find out more about Mollie and Rich at: Singer Mollie O'Brien and guitarist Rich Moore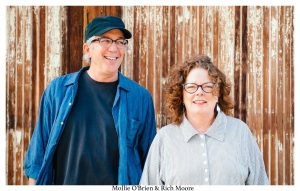 Advance tickets are available from https://mollieobrien-sfs.brownpapertickets.com or 1-800-838-3006, and at our concerts prior to the show. Ticket sales begin approximately 60 days before show date.
br> br>
| Ticket Prices | Advance Purchase | At Door |
| --- | --- | --- |
| General admission | $18 | $20 |
| SFS / PNA Member | $16 | $18 |
| Senior / Student | $16 | $18 |
| Youth (6-17) | $9 | $9 |
| Under 6 | FREE | FREE |
Add this event to your calendar: