We are pleased to begin our 2017 concert season with The Bills – a wonderful 5 piece Canadian combo, celebrating 20 years of touring as a group.  Advance tickets will be available on-line until 2PM Saturday through Brown Paper Tickets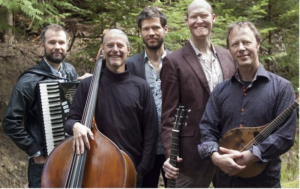 You can hear the band interviewed on KBCS Radio 91.3 FM at 11 AM, on Our Saturday Tradition with Ginger Hopper.
The concert takes place at the Phinney Neighborhood Center Community Hall (in the lower brick building) The house will open by 7PM for the 7:30 show.  At this point tickets are expected to be available at the door – our website will be updated if this changes. See the concert listings for more info about this and other upcoming events.